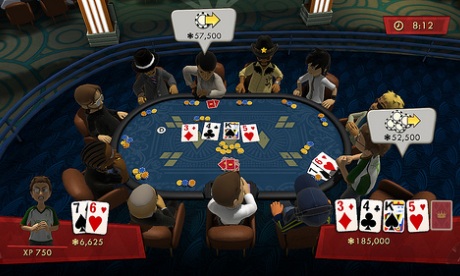 Despite the fixed time schedule, and the fact I never got near winning anything, I did enjoy
1vs100 on Xbox Live
. In hindsight it was probably the concept and the potential that were most interesting, but the online game show experience was one that I felt should have been developed even further.
Microsoft didn't agree, and canned the project last year. Those few months of trivia-based gaming seemingly haven't gone to waste though, with Microsoft using the 1vs100 experience to develop Full House Poker.
More details about Full House Poker – first seen at CES – have
been coming through
. The service – due out this spring – will offer TV-style live poker events with season-long tournaments and more traditional Texas Hold Em' matchups with up to 30 opponents (artificial or real players). Whether you will actually want to sit and watch the top players compete is one thing but at least the use of avatars will make for a vaguely amusing spectacle. Professionals will be playing too as Kotaku report:
The game includes a number of professionals. If you take them down you win their shirt. The game is packed with all sorts of rewards waiting to be unlocked. There are dozens of customizable tables, chairs and card decks, player titles, locations and even in-game avatar costumes. My favorite unlockable, though, are the neat chip tricks. As you play you'll earn the ability to spin a chip on your fingertip, or roll one across your knuckles. All said, there are more than 150 rewards to unlock. Unfortunately, they all stay in the game.
Given that the game is played for virtual chips only, you can imagine it appealing to the more casual poker player. Having said that, I remember thinking that 1vs100 would attract a more casual Xbox competitor, only to find that trivia was as much a battleground as Halo.
Anyway, what do you think? Will this kind of TV-style online poker catch on in Xbox Live? Also, anyone else here miss 1vs100 as well?
http://www.guardian.co.uk/technology/gamesblog/2011/jan/12/full-house-poker-xbox-360
Cant wait to play online with people this will be huge!